May 18, 2022
A Deep Dive Into The FCA
3 min read
We speak to Nigel Borwell from Lead Tech for a deep dive into the Financial Conduct Authority (FCA).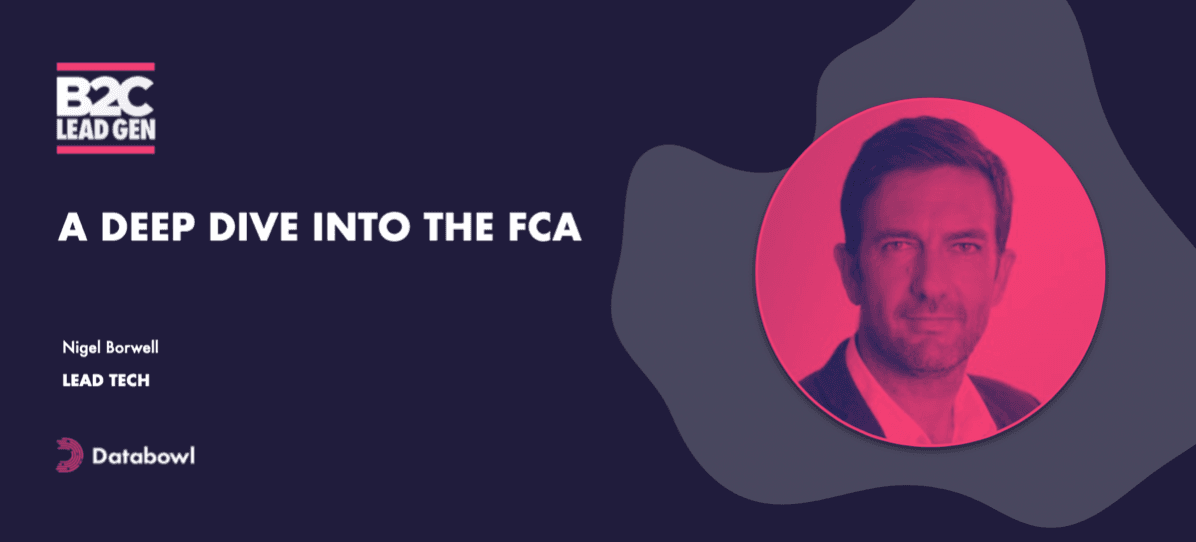 This week we speak to Nigel Borwell from Lead Tech for a deep dive into the Financial Conduct Authority (FCA). Whether you're involved in the financial services industry directly, or you're simply involved in lead gen and curious about the FCA works, this is an interesting study. 
What is the FCA? How does it work? What are the benefits to lead sellers, to lead buyers, and to the consumer? 
We talk through this and more in the latest episode of the B2C Lead Gen Podcast.
Below is an abridged transcript of the key ideas discussed. Links for the full podcast can be found at the bottom of the page. 
Nigel, let's start with the basics. What is the FCA? Why was it created? 
Nigel Borwell: In simple terms the FCA - the Financial Conduct Authority - are the regulatory body for the financial services industry here in the UK. I guess they are a set of guard wears really, and are there to protect the consumer, to govern and to provide a framework for financial services businesses to operate. 
I think there is definitely a kind of consumer theme there. Protecting the consumer is a big aspect of what they do and what's on their radar. 
So practically speaking, what does their work look like? What do lead sellers need to know?
As far as the FCA is concerned - and I'm sort of simplifying this - but they essentially see businesses as directly or indirectly authorised with themselves - or not. 
An example would be, a lead generation company operating within the financial services industry but who are not authorised by the FCA would be viewed as an "unregulated" entity performing "unregulated" activities.
Are unregulated activities illegal? 
No, they're not, and lead generation is - and I suppose this is a subject in itself - an unregulated activity. But in terms of Lead Tech, we made the decision to become directly authorised. We're not alone. There are a number of companies that are directly - or indirectly - authorised. Either way they are on the FCA radar and visible and accountable. 
Is it difficult to become FCA authorised? 
Part of the challenge is it is. It's not straightforward.  To give you some context to that, we got our authorisation through last year, we probably started our process almost a year before that. And we started those conversations nearly a year before that. Yes, it took quite some time. If you look at the Google changes last year, that has effectively made it even more challenging for companies to become authorised. I imagine it would have made that waiting list a little bit longer. 
So let's say a lead generator runs an ad on Google - for a company who is FCA authorised -  that is in someway misleading or false. How would the FCA intervene?
I think the first thing is that kind of visibility of whose involved in the chain would be there, because the appointed representative would be on their register, and obviously the principle firm that has appointed that representative (the lead generator) would be directly authorised with the FCA. So the FCA would naturally be able to track that back and go straight to the principle firm and hold them to account.  The principle firm would then go straight to the lead generator. 
Ultimately they would be told to make the relevant changes and everything would be okay as long as they did that. If it was repeated then potentially the principle firm would have their authorisation removed. 
So it really puts the emphasis on any company working with a lead generator to ensure their processes are robust and they understand exactly what is going on.
Want to hear Nigel have a look at the loophole some companies are exploring within this world? Check out the rest of the podcast on Apple, Spotify or watch on Databowl's YouTube Channel. 
Weekly Newsletter
Tactics and tips served straight to your inbox. Sign up to the Databowl newsletter and receive weekly custom content for unlocking growth.
Loading newsletter form...