October 29, 2021
It Always Comes Back To Quality
6 min read
What does it take to start a lead generation agency from scratch and turn it into one of the biggest in the world? What would you need to grow that fast?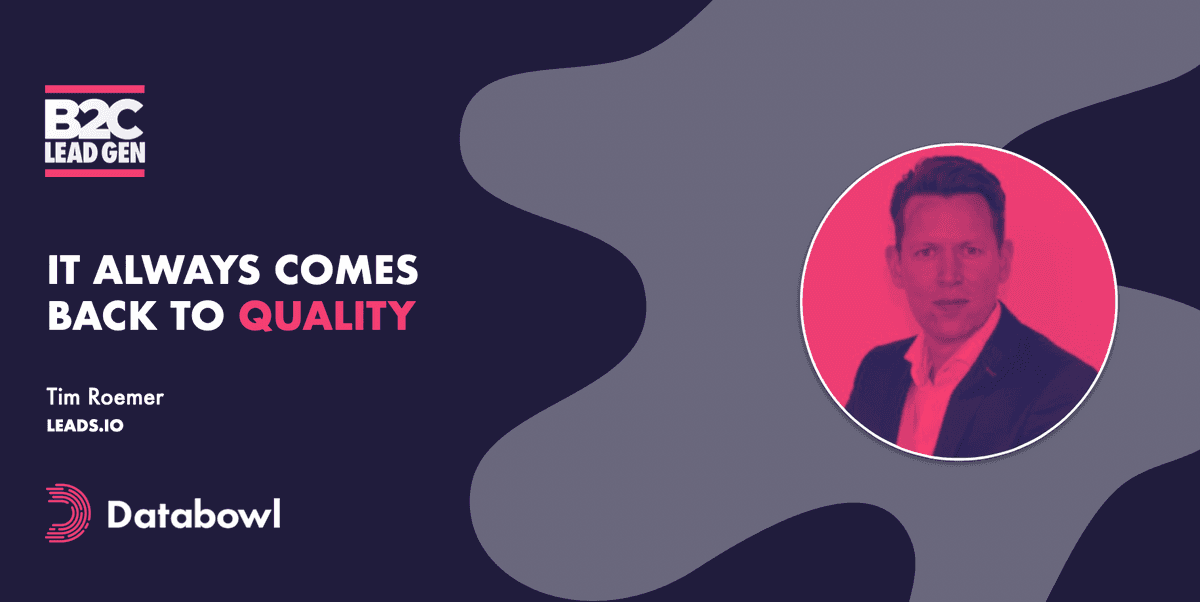 What does it take to start a lead generation agency from scratch and turn it into one of the biggest in the world? What would you need to grow that fast?
It's a big question, and the answer is quite a story. We get that story from CEO and founder of Leads.IO, Tim Roemer, who has built his lead gen agency from the ground up to incredible heights as Leads.IO are already one of the biggest leads gen agencies out there. But he isn't stopping just yet. "My passion is lead generation. I want to become the global leader."
Whether you're a lead generator with similar ambitions, or a lead buyer looking to get some amazing tips on how to get a better ROI on your leads, this article is for you.
Below are some of the key ideas discussed during our recent podcast with Tim Roemer, but be sure to check out the entire thing - links at the bottom of the page.
Tim, let's begin with the beginning! How did you get started in lead gen and how did you get to where you are now?
Tim Roemer: Maybe it's good to tell you a bit about the lead generation journey I've been on. Back in 1999 when I started with lead generation you had these kind of action coupons where you could leave your data and get more information about a new kitchen or coffee machine, and as a hobby I built websites and did a bit of coding - PHP - so I knew how to post a form, but yeah, I joined a print media company that did lead generation and they had these type of envelopes with 32 cards in it, and always it was a struggle to fill out the last cards. And at one point the owner of that company came up with the idea to introduce pay-per-leads.
So I had a fixed amount, and when you reached a specific volume you had to pay a price per lead actually. And because of my, you know, website building skills I told the owner, "Man, we have to do this online!"
So that was back in 1999, early 2000, and the owner of the company basically gave me the opportunity to build online forms and that's how I started my lead generation journey. There was no Google, no social media platforms, so the channel that we used a lot was email marketing, so building email marketing databases to generate leads. But I was always searching for ways to connect advertisers with potential customers, using email marketing, using all types of affiliate marketing tools, using viral marketing games to build up email databases.
I think it was early 2009 when I started with Facebook advertising, and back in those days you only had the option to advertise on the right hand side of the page. It was already pretty impressive, but I didn't really have the feeling that I could dedicate a standalone business around Facebook lead generation. And it was in 2013 when Facebook launched a couple of options where you could basically push a message to every single Facebook user, and I thought "Yeah, this is the Holy Grail!" We needed to create a dedicated business around Facebook lead generation. Before starting Facebook lead generation I also worked a lot with sweepstake lead generation, co-reg, co-sponsoring, so I knew a lot about how to generate a lead, and back in the days of just throwing a lead over a face and letting the advertisers figure out how to convert that lead into a paying customer!
So starting that journey, with Social Blue (as it was called then), we always focused on high quality.
So yeah, I basically bootstrapped the company with a focus on Facebook lead generation, and we were actually one of the first companies in the world to start with a dedicated focus on Facebook lead generation. For the first years we only focused on Facebook, then at one point Instagram joined, and we were 100% focused on branded campaigns. So we create dedicated branded campaigns for clients, we take all the risk of media-buying, and we create campaigns from A-Z, and always focusing on making sure that our clients will get the best possible return on investment.
We built a lot of technology in-house to basically connect out platform with platforms like Facebook, but also Google, to basically scale campaigns. So technology was pretty important. Then at one point we realised there is so much out there, next to Facebook and Instagram, clients were requesting us to get more leads in through new channels, and I saw a big opportunity to only search for the best clients connected to Facebook lead gen, but to search for the best clients connected to lead generation, and help them by generating high quality leads by using multiple channels.
And that's why we basically decided to change our mission and not only focus on Facebook anymore, but yeah, use multiple channels. So, early 2020 we bought a Native and Display Advertising company. That was the first step of our mission. And then we also reached the point that we thought we could become part of one of the largest lead generators in the world or we are going to try to become the number one ourselves. And that's something that I really liked. My passion is lead generation, so I just really, you know, want to be the global leader in lead generation. And we decided that we need a new name because Social Blue was really connected to Facebook and Instagram, and that's why we decided to buy the domain name Leads.IO, because of the combination with tech, and to really show the outside world our mission of trying to become the number one in the world.
But yes, I've seen a lot of ups and down in the lead gen world, but it's been a fun journey and it still feels like the beginning.
In the early days of the Facebook advertising was it still a case of you building your own forms, driving traffic from Facebook to those forms, and then connect an API or deliver the leads to a client in some way? So the platforms have changed, the landing pages have changed, but the model hasn't really changed?
Exactly. The model is exactly the same. The mission, connecting advertisers with potential customers has always been the same. So in the early days we used print, then we used email, then we used affiliates, and at one point Facebook, but we still created a dedicated branded campaign for clients completely in the look and feel, and just tried to convert that lead into a paying customer, together with that client.
I think the future is going to look the same, but it's going to be even more important to help clients convert leads into paying customers. But I also believe that lead generators, at one point, will maybe even need to book those appointments for clients, because the follow up process is so extremely important, and using data to convert leads into paying customers, seeing the differences between channels, using technology to make sure that clients will get the best possible ROI, is going to be key.
The biggest thing you seem to offer - at least according to your site - is "quality" in your lead generation. What does quality look like to you? And how do you ensure the leads you are generating are high quality?
For me it's all about transparency. That's really key. Whenever we publish campaigns, especially through Social Blue, we will always explain and show clients what we are going to promote, because we are using the brand of the client. I think that's really important. Client's need to understand exactly which images, which videos, which copy we are using, how the landing page looks, so they can use the angles that we are using in their call centres, in their internal teams, so I think that transparency and that collaboration with clients is key to make sure we are generating high quality leads.
Another important thing is transparency towards the consumer, so that the consumer exactly understands what's happening next…
What to find out what IS happening next? Check out the full podcast on Spotify, Apple, or watch the video over on Databowl's YouTube Channel.
Weekly Newsletter
Tactics and tips served straight to your inbox. Sign up to the Databowl newsletter and receive weekly custom content for unlocking growth.
Loading newsletter form...