March 03, 2023
Lead Distribution System Buying Guide: Everything You Need to Know
14 min read
The Ultimate Buying Guide for Lead Distribution Systems.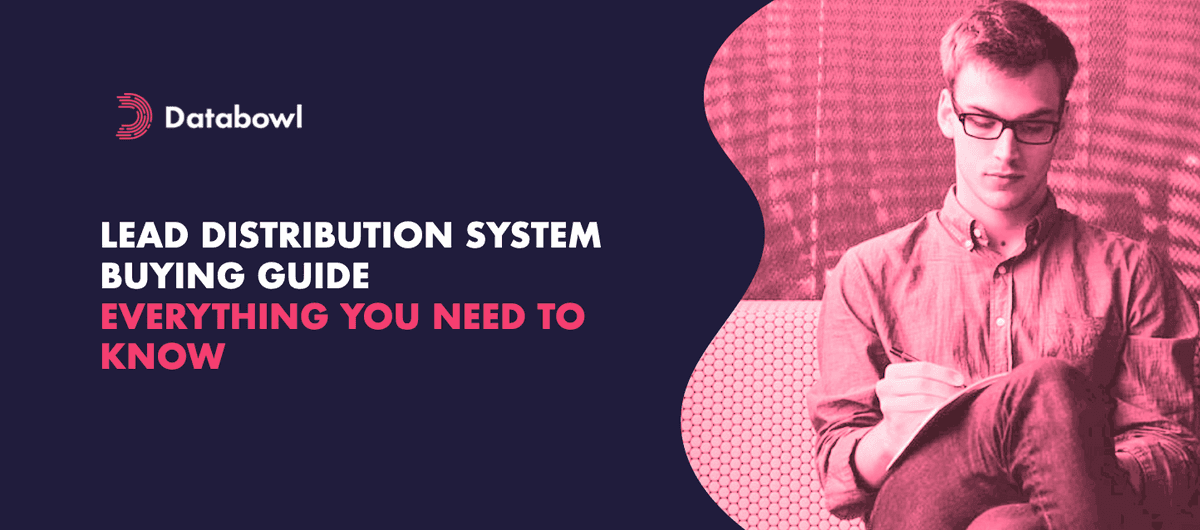 Lead distribution systems play a critical role in generating revenue. That's why buying the right lead distribution software is so important, and often intimidating for many businesses.
In this lead distribution system buying guide, we'll discuss everything you need to know, including the following:
How lead distribution systems need to fit your business
Key system features
The types of systems available
Top software options
The steps needed to choose the right system for your business
Let's dig in so you can gain confidence and move forward with a new lead distribution system to grow sales for your business.
How can high-quality lead distribution fit into your overall lead management system? Schedule a demo with us to find out.
What is a lead distribution system?
A lead distribution system is used to assign leads to various salespeople as leads are collected by contacting the business or otherwise engaging with the organization. Lead distribution software helps to automate and optimize this process, using various criteria to inform how leads are routed to the right salesperson at the right time.
Having the right lead distribution system is essential for businesses. It ensures you make the most of your leads by increasing the likelihood of each lead becoming a sale. This ultimately increases revenue and grows your customer base.
Consider these factors before buying a lead distribution system
As you're looking to buy a lead distribution system to support your business, you'll find there are many different software options available. The system you choose needs to meet your particular needs.
Before you dig into your options, consider the following factors about your own business.
Your company size and structure
If your sales team is large, and leads flow through multiple steps in the sales funnel (such as reaching a call center first and then being passed to a salesperson) you likely need a more robust, complex lead distribution system. This allows you to manage the thousands of data points that could impact how leads are assigned.
On the other hand, if your company is smaller, you may have less lead and sales data to manage, meaning a simpler lead distribution system would save you money while providing only the tools you need to properly assign leads.
Your lead volume and frequency
The volume of leads that flow into your lead distribution system also impact the type of software you want to choose for your business.
If you generate a high volume of leads, you need a system that can manage, assess and distribute each lead in real-time. This requires handling more data and a steady flow of lead assignments to multiple salespeople, more often.
If your lead volume is smaller, you likely have less data to manage, and may be able to rely on a simpler lead distribution solution.
Customization and flexibility needs
Whether your company and lead volume is large or small, consider how this can change and how that would impact the lead distribution system you choose. If you want to scale, can the software you're using adapt and help your business grow or will it limit you? In leaner times, can it be scaled back?
As other various business needs change, you want lead distribution software that can be customized and flexible to meet your ever-evolving needs.
Integration needs with other tools
Your lead distribution system is one important piece of the puzzle. You also use various other business tools that it needs to tie into, such as your CRM, marketing automation software, email marketing tools, and social media tools.
Seamless integration ensures that all of these systems work together to streamline how you manage leads across the board.
Your budget
With the above factors in mind, you'll likely form a clearer picture of the budget you can put toward lead distribution software.
You need a lead distribution system that fits within your budget that also provides the features, functionality, and flexibility you need in the short and long term.
Dig deeper: Read our Executive Guide to Lead Distribution Strategy.
Key features of an effective lead distribution system
After you consider the particular needs of your business, you'll want to understand the best features available within lead distribution systems so that you can make the most of your sales and marketing strategies.
When buying lead distribution software, these are the key features to look for that will enhance your sales process and help you manage leads effectively.
Lead validation, scoring, and qualification
After leads are collected, and before they're distributed, they can be validated, scored, and qualified to inform what next action should be taken, and ultimately increase the chance of closing sales.
Validating leads helps your sales and marketing teams avoid working with bad data using deduplication and other criteria to ensure you're only managing leads that are right for your business.
Valid leads can then be scored based on predefined criteria, such as their demographics, behavior, and engagement. This helps your teams prioritize which leads to work.
As leads are then deemed sales or marketing qualified, it helps your business more clearly define what actions to take next with each lead.
Real-time lead routing to the end point most likely to convert
With an effective, data-backed lead distribution system, leads should be distributed not only in real-time, but also to the end point that is most likely to convert each lead.
This ensures leads are assigned to the right salesperson at the right time, as soon as possible. Or, based on how a lead is qualified, the lead could be moved into a specific marketing campaign to take a different path through your sales funnel.
Automated lead distribution
Beyond providing the information about what actions should be taken with each lead, these actions and notifications should also be automated.
Automated lead distribution saves time and resources. It ensures that no leads or repeatable tasks fall through the cracks. It provides guidance for what initial actions each sales and marketing team member should take for the best outcomes with leads.
Lead nurturing capabilities
Lead nurturing is essential for businesses that want to build long-term relationships with their leads.
If a lead isn't qualified to speak to a salesperson immediately or they become unresponsive, a lead distribution system can help you manage lead nurturing campaigns that will work to warm these leads.
Lead distribution software automates the process of nurturing leads through targeted emails, content, and other marketing activities.
Reporting and analytics
In addition to providing the above functionality, lead distribution software should also track and analyze the performance of your lead generation, distribution, and sales and marketing processes.
Reporting and analytics brings awareness and visibility into these areas, helping you make data-driven decisions by identifying opportunities and areas for improvement.
Types of lead distribution systems to choose from
Depending on the features of your business and the lead management functionality you need, there are various types of lead distribution systems available.
From simple to advanced software, to how you use and access the tools, you can find an option that will best serve your business — as well as your leads — as you work toward conversions.
It will help to understand the types of available systems listed below.
Basic lead distribution systems
Small businesses with lower lead volumes will find that basic lead distribution systems are most suitable, being simple and cost-effective. These have the core features needed to manage leads, such as validating and assigning leads, without extra functionality that will go unused or over-complicate your team's processes.
A manual, or pull, lead distribution system may be the simplest type of distribution software. It's essentially a lead database that salespeople monitor and choose which leads to take action with, using their best judgment or a set of sales rules. This is becoming less common though, as automated, or push, lead distribution provides data-backed conversion outcomes more easily. It's widely available while still being cost-effective for the most basic lead distribution needs.
Advanced lead distribution systems
If you're a larger business with high lead volume or are looking to scale your sales, you may need an advanced lead distribution system.
This software is more complex, helping you navigate a larger flow of data points in real-time. It has many features that optimize how each lead is prioritized and worked. Beyond the basics of assigning leads, advanced software often offers additional features, such as lead qualification and ongoing lead nurturing capabilities, as well as visibility into the effectiveness of sales and marketing processes through reporting.
Self-hosted lead distribution systems
For businesses needing high levels of security and customization, you'll likely want to choose a self-hosted lead distribution system software. This type of system is installed on your own servers, giving you complete control over the system.
Because it's under your control and likely more customized to meet your unique needs, it can also be more costly than a more standardized cloud-based system. You will also need to provide each of your team members and anyone supporting the system with access to it through your servers as well, rather than it being accessible through a browser or cloud-based application.
Cloud-based lead distribution systems
For a more straightforward and affordable lead distribution system, cloud-based lead distribution systems are becoming increasingly accessible and popular.
This type of system is hosted in the cloud and can be accessed from anywhere in the world where you have an internet connection. They can also be set up more quickly and easily. 
These are often more affordable because they're more standardized and widely used across businesses. For this reason too, they're often simpler and faster to set up.
This could mean though that you can't customize every feature and that it may be less secure compared to self-hosted lead distribution systems.
The Top Lead Distribution System Software Options
For business to consumer organizations needing support with lead distribution software, below are the software options commonly considered.
Each platform has its strengths and features to compare. Choosing the best one for you will ultimately depend on your particular needs. 
Databowl
Based in the UK, Databowl is a global lead management and lead distribution system that was specifically built to help companies and brands who are buying leads maximise the value of those leads and make more sales.
With a focus on weeding out bad and invalid leads, Databowl helps sales and marketing teams prioritize leads that are ready to engage and actually want to buy what is being sold. This backs up the customer-first considerations Databowl is built on.
Features include importing and validating data from multiple sources and standardizing inbound and outbound data feeds to be delivered in one format. Leads are also scored in real-time, allowing businesses to also score data sources and see quality reports that can be sent back to third-party providers.
Client and industry-specific filters can be created and settings can be adjusted in real-time so users can make evidence-based decisions. Audit logs are also automatically generated for account activity. It can be used as a stand-alone platform or integrated with most other systems.
Whilst other lead management systems have been built for lead generators with the aim of extracting as much money out of as many people and advertisers as possible, this doesn't benefit brands and lead buyers. Databowl was specifically built in a transparent way to protect brands and lead buyers, as well as consumers and their data. 
Turn-key features include lead acquisition, validation, distribution, scoring, nurturing, and more.
Industries served: Consumer-facing brands and lead generators
Pricing: Pricing is based on how many leads you manage per month. For 100,000 leads per month, Databowl pricing starts at $1,204/month (£999) for lead management, $1506/month (£1,249) for lead generation, and adjusts from there to accommodate custom, enterprise needs.
Adjust leads per month up or down to see more Databowl pricing options.
SalesRiver
SalesRiver offers an all-in-one sales platform specifically designed for distributed teams, which allows businesses to acquire, route, sell, and manage leads automatically and in real-time, across one or multiple locations.
It uses a sequential flow resembling each phase of the sales cycle that begins with acquiring leads, through to reporting on how leads and salespeople have performed at every level of the organization. 
SalesRiver simplifies and automates complex lead routing, customized to each organization's specific needs. Routing is based on a larger pool of criteria, including geography, salesperson availability, and salesperson performance to ensure each prospect reaches a salesperson when they're ready.
In addition, SalesRiver offers intelligent call routing, which can be adapted to large and small businesses to instantly connect prospects to salespeople.
The software is turn-key ready while still providing customization options with each organization having a unique instance of the software branded to match them.
Industries served: Insurance, financial services, mortgage, home services, real estate, and more.
Pricing: Starts at $1250/month and goes up from there to accommodate custom enterprise solutions.
CAKE
CAKE helps to pinpoint exactly what marketing campaigns and partnerships are working best. This is useful for those in performance marketing advertising.
CAKE's lead distribution software is meant for marketers that need to easily capture and analyze granular data to track and attribute each conversion. It's known for its reporting capabilities and allows for a simple setup with a cloud-based, turn-key system.
It offers lead validation, fraud detection, automation, smart routing, and extensive filtering, among other features.
Meant for marketing teams, CAKE helps track marketing campaigns and other efforts. An additional solution may be needed to assist with lead distribution related to sales teams.
Industries served: Businesses based in performance marketing
Pricing: Contact CAKE to learn more about pricing, as info is available upon request.
Boberdoo
Boberdoo focuses on serving online lead generators ranging from individuals and small businesses needing simple solutions, to large organizations needing complex, custom solutions.
Its lead distribution system includes tracking, routing, and automating solutions for traditional lead companies, as well as AI powered-models and innovative solutions for more complex lead buyers.
Boberdoo's automation features help businesses decide how and where to direct lead information to specific partners.
Its features also include real-time lead distribution and filtering, as well as custom CRM and lead management system integrations. Boberdoo also provides unlimited portal logins and multiple billing options to work with partners and vendors. In addition, Boberdoo offers call routing and pin post/ping tree software, a form builder, and lead quality checks, among other features.
Its range of capabilities may make it a solid choice to consider for companies needing advanced or self-hosted solutions.
Industries served: Lead generation and online marketing
Pricing: Based on specific business mix. Contact Boberdoo for custom pricing.
ActiveProspect LeadConduit
LeadConduit is a real-time lead optimization platform that empowers sales and marketing teams to take action on their leads by customizing lead flow, enhancing leads with additional data, filtering and rejecting leads, and delivering the data to a CRM or any other necessary system.
With a focus on data integration solutions and action-oriented tracking and reporting, LeadConduit's goal is to integrate all lead sources with the systems a business uses to contact leads.
Leads are routed based on custom rules to different systems or buyers. Its flexible, yet standardized integration is meant to keep this simple.
LeadConduit focuses on managing consent-based leads for customer acquisition, so it also helps businesses reduce the risks of TCPA-associated expenses.
If you already work with ActiveProspect, LeadConduit might be a great service to add to your plan. If not, you would need to consider adding a Professional Plan with ActiveProspect to use this lead distribution software.
Industries served: Insurance, financial services, home services, education, and CPG and media
Pricing: LeadConduit is available to ActiveProspect customers with a Professional Plan. Contact ActiveProspect to get custom pricing. 
5 steps to choose the right lead distribution system
Now that you're familiar with the key features and types of lead distribution systems, your organization's needs, and the popular software options available, let's break down the steps to take to buy the right lead distribution system for your business.
Afterall, making the right choice can be crucial to your success.
1. Identify your business needs
As we mentioned at the top of the article, you need to know what you need before you can buy the right system to support your business.
Start by identifying your business needs, including your company size and structure, lead volume and frequency, customization and flexibility needs, integration requirements, and budget.
2. Research vendors and their products
Using the information we've provided, you'll have confidence beginning the research process. 
See what lead distribution software vendors are out there. Start with the list of software options we provided above. Go from there to learn more about various vendors and their products to determine which ones might meet your business needs.
3. Compare features and pricing
As you research lead distribution software vendors, compare their products and solutions to see how these features match up to your business needs. What industries do they serve? What solutions do they offer?
Consider their pricing and how it might fit into your budget as well. Some vendors offer up pricing information with transparency on their websites, others require a conversation on the phone.
By comparing features and pricing, yo'll start to see which ones can provide the best value.
4. Check vendor reputation and customer reviews
As you narrow down your list of lead distribution software providers, see what their customers have said about them. Research reviews and get a feel for the company's reputation.
This helps you understand if they're reliable and also whether they provide helpful customer support.
5. Schedule demos and see your options
Most software providers offer free demos or trials of their products. Once you've chosen a few lead distribution tools you want to pursue further, connect with them to have a conversation or schedule a demo. See the features for yourself and have a conversation about your needs and questions.
Some providers also offer free trials that let you interact with their tools directly.
Improve lead management with a lead distribution system
As you've likely gathered, lead distribution systems are essential tools for businesses that want to increase revenue and grow a customer base.
Choosing the right lead distribution system has a significant impact on your sales and marketing processes.
Take time to evaluate your needs, compare options, and choose the system that provides the best value for your business.
With the right lead distribution system, you can streamline your lead generation and sales processes, nurture your leads, and close more sales.
Want to learn more about how Databowl works for its customers to make the most out of their leads?
Schedule a demo with us to see for yourself.
Together, we'll discuss your specific lead management needs to see whether our platform can help you optimize sales.
Weekly Newsletter
Tactics and tips served straight to your inbox. Sign up to the Databowl newsletter and receive weekly custom content for unlocking growth.
Loading newsletter form...