March 11, 2022
Lead Generation Isn't an Industry, It's a Way of Life
3 min read
Is lead generation an industry of a marketing tactic? Why is understanding the difference the key to unlocking growth?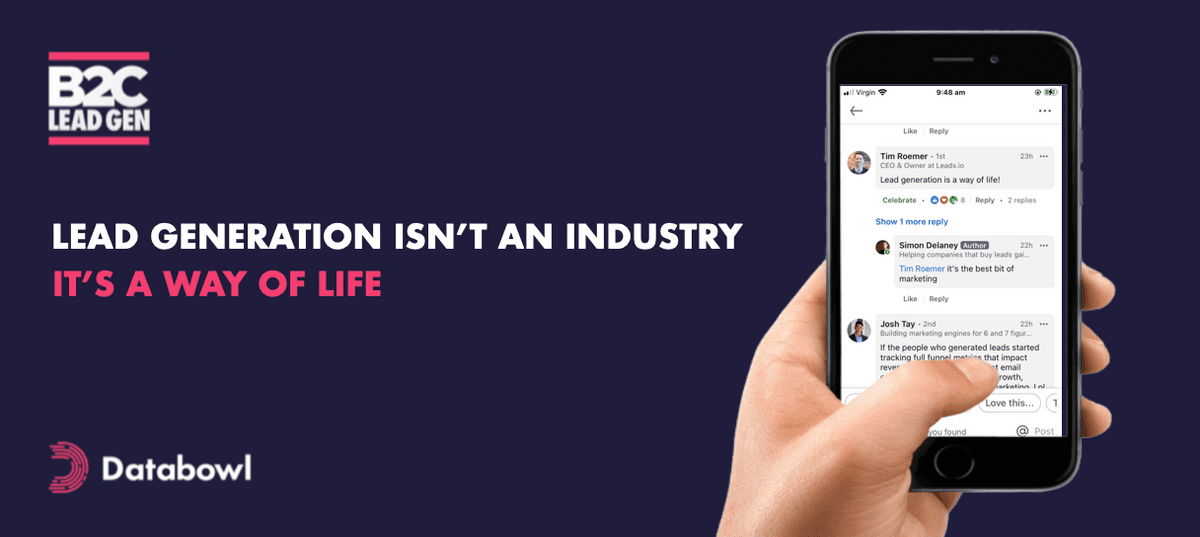 Slightly different one this week. Databowl CEO Simon Delaney posted something on LinkedIn that said "Lead Generation isn't an industry. It's a marketing tactic." There was perhaps a little misunderstanding of  exactly what was meant by that so we decided to practice what we preach and be #transparentAF and simply talk through it.  
We recorded a new episode of the B2C Lead Generation podcast where we delved into the meaning, looked beyond the semantics, and tried to examine why there is just such huge opportunity in lead gen for both buyers and sellers! 
This article pulls out some of the key ideas discussed in the podcast but you can check out the entire episode by following the links at the bottom of the page. 
Why is lead generation treated as an industry and not simply an aspect  or tactic of marketing? 
Simon Delaney:  So to back-step slightly on this, the day before (the post) I was on a call with Luke Ashworth of advisor.AI and he and I had agreed to just have a conversation, and we discussed this, and it's something we've talked about on the podcast before: whether lead generation is actually an industry and whether that potentially harms its perception? 
My big thing has always been saying lead generation is not an industry but it gets perceived as an industry. It's attached to certain verticals behind that. So a vertical like Financial Services is heavily attached to it because a lot of relatively high ticket items use a lot of lead generation tactics to boost sales. Things like life insurance, mortgage leads, private medical insurance, anything related in the financial services because they can be worth hundreds and thousands of pounds of conversions and the TAM (Total Addressable Market) within these verticals is huge because every time someone buys a house, every time someone has kids, every time someone gets ill, potentially, they all trigger these actions where they need financial services.  So most people in the UK, of USA, all over Europe, will have used these services and their data will have been collected via lead generation. 
But, the actual industry within that, is Financial Services and lead generation is just the marketing tactic used to enable companies within the Financial Services industry to get more customers. 
For a lot of people lead generation exists as a siloed industry, which is strange because if you think about it virtually every company on earth does lead generation. In its most basic concept it would be a newsletter sign up on a website. That is lead generation. Virtually every company has this, right? 
Once you start thinking of it like this you see the confusion. At what point does it become an "industry?" 
Is it when you simply have a form on your website? Or when you have dedicated companies like leads.io or MVF Global, like millions that we all know and interact with.  You know, a lot of them license Databowl or feed leads in or the buyers buy leads from them. 
Is outsourced lead generation to those companies a type of industry? Or is that still just a marketing tactic that is being outsourced? Because what would you call it if it was being done in-house, by the financial services company for example? Or by an energy company or a broadband company? 
These questions is why there is a blurred line and why I did that post. But the question is why does it even matter?
So, why does it matter? 
The reason why I think it matters is if lead generation becomes a siloed industry in itself, it's almost as if none of the other marketing tactics that could exist around it and working with it - creating awareness, creating a brand, other sorts of advertising , thinking in a more holistic sense around marketing - no longer matter if you exist in a separate industry. 
Might marketeers generate better leads if they think of lead gen as a marketing tactic and not as a separate industry? It all links back to a statement we've made a lot: Lead generators needs to become brands and brands need to become lead generators. 
Check out the full podcast on Apple, Spotify, or Databowl's YouTube Channel. 
Weekly Newsletter
Tactics and tips served straight to your inbox. Sign up to the Databowl newsletter and receive weekly custom content for unlocking growth.
Loading newsletter form...