April 22, 2022
Leads and Call Centres | How To Get Them Working In Harmony
3 min read
We look at how you can get your leads and your call centre working in perfect harmony to achieve more sales.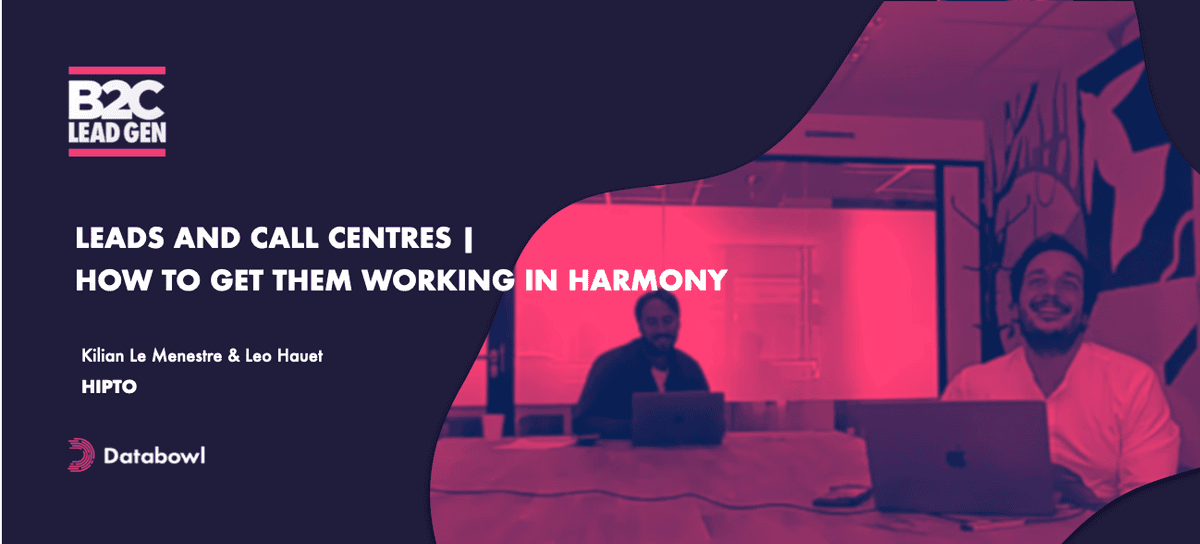 We speak to Kilian Le Menestre and Leo Hauet from Hipto to look at how you can get your leads and your call centre working in perfect harmony to achieve more sales.
Below is an article adapted from our conversation as part of the B2C Lead Generation Podcast. You can check out the entire thing with links at the bottom of this page. 
Let's start with Hipto. Tell us what you guys do. 
Kilian Le Menestre: We are a French company.  A lead gen company in the B2C market. We work in the French market but also since the beginning of the year we have launched in the Spanish and the Italian market. And hopefully in 2023 we will be in the US market. 
We work in five main verticals of lead gen - Insurance, Telecommunications, Energy, Home Services and Education. 
And how do you work with call centres? 
We actually know all the call centres really well. Before we launched Hipto I spent five years in Casablancas in Morocco. It is one of the biggest places for offshoring call centres for the French market. I was selling insurance by phone so actually I was a big lead buyer. I didn't find, when I was buying my leads, a great solution that was well implemented with what my sales team and telephone operators needed to make good sales. So that was why we launched Hipto, and that is how we are related to the call centre industry. Our clients are mainly call centres. We talk to them every day. 
What were the problems you experienced when buying leads?
There were too many problems for me. In my time cold leads and cold calling was implemented.  We'd get a big data base and the main goal with my call centre was buying large volumes of data at the cheapest cost possible and implementing that in in auto-dialler system and when we reached like 1% conversion rate it was the best thing we could get! 
If you're phoning leads all day long and only getting 1% of sales - 8.00am to 7.00pm - making only one sale a day. For me it was impossible. There was a lack of productivity, a lot of frustration, a lot of wasted time. 
I was in the heart of the call centre and I saw the market moving from cold calls to hot leads. 
I guess you also had a high staff turnover as well? 
Yeah, exactly, when you're running it like this what of the main pain points is the staff. But the gasoline of good sales is good leads. That is why we started Hipto. 
So you only sell "hot leads" and by that you mean good quality leads with high intent to buy, right? 
Yes. It is one of our big things. 
We believe cold calling will be dead in less than five years. One of the main reasons is the regulation - GDPR, in France we have really strong regulation - in the industries we are working, telecommunication energy, they are strongly regulated. With all this I don't think cold calling has a future. 
Want to check out the full podcast with Hipto? Listen on Apple, Spotify or watch on YouTube NOW! 
Weekly Newsletter
Tactics and tips served straight to your inbox. Sign up to the Databowl newsletter and receive weekly custom content for unlocking growth.
Loading newsletter form...