April 30, 2021
Publishing In Lead Generation
4 min read
Whether you're wanting to enter this area of lead generation yourself, or you're looking to integrate buying leads from a publisher into your marketing mix, this is well worth checking out.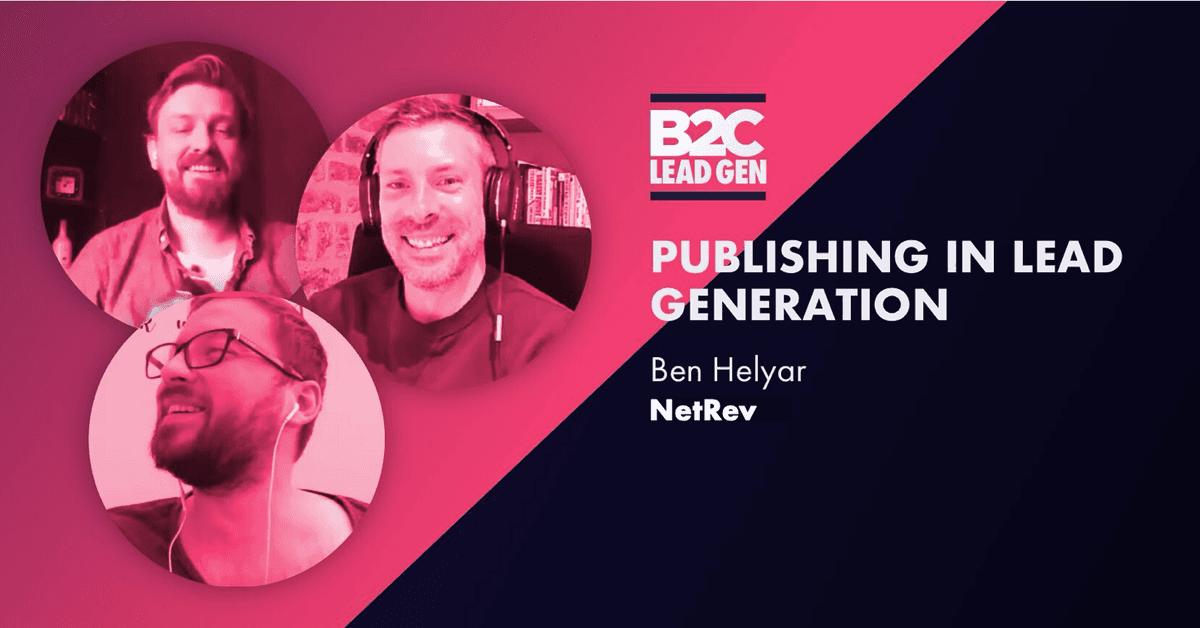 We caught up with Ben Helyar from NetRev to have a look at Publishing within the world of lead generation as part of the B2C Lead Generation Podcast. Whether you're wanting to enter this area of lead generation yourself, or you're looking to integrate buying leads from a publisher into your marketing mix, this is well worth checking out.
We get you answers to the following questions:
How do your leads vary from other types of lead generation?
Who is your ideal client?
You have 10 million engaged users, how do you build a strong relationship with so many?
How do you ensure you're only sending out content people really want?
Do users ever trust your more than the brand and is there ever any conflict between you and your clients if so?
Below are some of the key ideas discussed, but be sure to check out the entire podcast for an even deeper dive into this world.
Who is your ideal client or partner?
Ben Helyar: It's a difficult question but it has to be someone who is looking for our user I suppose. We're a very data centric business. Everything we do relies on the fact we carve up the database, we carve up our exposures, and we look at how we can use our digital assets best to profit the partners we work with.
This D2C Evolution that we're seeing at the moment is big. Brands want to interact with consumers directly. Every company out there that you can think of is entering that market. I noticed yesterday that Coca-Cola have just come in with their direct to consumer offering. Really interesting.
For us, the real key thing is having a discount or saving as part of the offer. You have to have a great message for the users, and then we will drive it and make it convert.
What's the typical journey your users go on (before becoming a lead)?
For us, email is still our number one driver of traffic. It's where we get most of our engagement, it's the bread and butter of what we do. Maybe you've signed up because you saw an iPad at a great price, but once we have you on that list we start understanding your interests and personalising the messaging that's coming to you because we understand your behaviours. It enables you to understand a hell of a lot about the users. You know what they're interest in, you know what they're purchasing, you know the seasonality of what they're purchasing as well, and what they might be clicking on.
You can use that data to ensure you're presenting great branded offers and partner offers that are applicable to that user.
So based on this information you send them partner offers? It's essentially a walled garden you've created which is why you can be so efficient with your emailing I guess?
It's a closed user group. Exactly. When we're emailing people are either in the list or they're not. Anyone can sign up to the list, but if you're not in the list you're not getting our emails. So, yes, it's a closed group in that respect.
Now we do have partnership opportunities outside of that walled garden, maybe we have partners who want to feature on the home page etc, but that's looked at on a partner by partner basis. It won't work for everyone.
Who controls the messaging? You or the brand?
It's six of one, half a dozen of the other. We have partners who are very much look, here's the offering, here's the brand guidelines, this is what you're putting out. And if a partner's booking media with us and buying a slot, then we can advise but 9 times out of 10 they're sure what they're doing. We then report back on the results with a little bit of analysis, suggesting what we would do next time. Big brands may or may not take that on board.
Smaller companies who are more agile and entrepreneurial are happier for us to take the lead on things. We've been doing this for 10 years, have the data to know what works in all the different verticals that we operate in and lots of companies will take that and learn from it.
It's a mistake for a lot of people who buy leads who don't really thunk about the journey. They think of the lead as the success, when really it's just the opportunity for success.
Completely agree. If you think about marketing assets you get when you've just engaged with a brand once, if they're not personalised and doesn't have a connection with the lead, they stop engaging quite quickly.
To listen to the entire podcast visit Apple, Spotify or Databowl's YouTube Channel.
Weekly Newsletter
Tactics and tips served straight to your inbox. Sign up to the Databowl newsletter and receive weekly custom content for unlocking growth.
Loading newsletter form...