April 01, 2022
The Role Partner Marketing Can Play In Lead Gen
3 min read
We connect with Zach Measures from Everflow to look at all things partner marketing.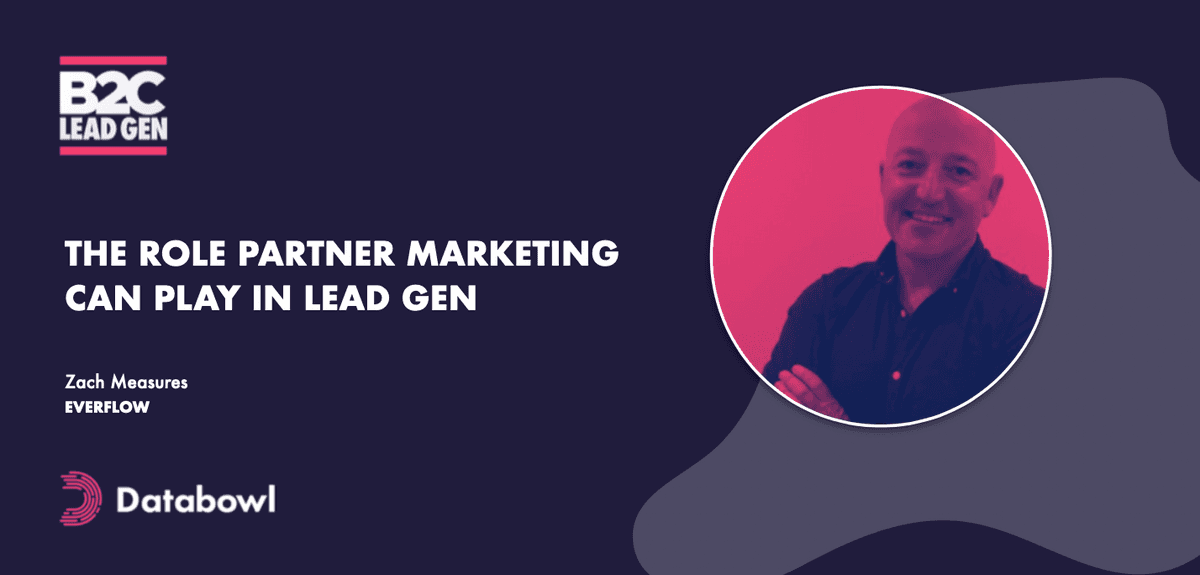 We connect with Zach Measures from Everflow to look at all things partner marketing. What exactly it is and how do you use it in lead gen? What are the opportunities in partner marketing for brands, publishers and lead generators? Why are relationships so important in partner marketing? We get you answers to these questions and a lot more: 
This article is adapted from the latest episode of the B2C Lead Generation Podcast. Links to listen / watch the entire thing can be found at the bottom of the page. 
Let's begin with a simple question. What exactly is partner marketing? 
Zach Measures: Sure. So the term partner marketing really comes from an advancement of affiliate marketing. But to maybe take a step back from that, affiliate marketing is traditionally someone else in the business of sending users to either your landing pages or pages that you represent on behalf of clients. So let's say I would be an agency, I got out to an affiliate, I prove them with a link - what's called a tracking link - that links back to that affiliate, and now I know that these affiliates ran activity for these advertisers over this period. 
And what's happened is the market space within the affiliate space has got more and more complex and there's lots of modular ways of approaching different audiences. So partner marketing is really an evolution of that. We use the term partners here at Everflow because a partner can cover quite a broad church of anyone in the business of sending users to a specific landing page, a specific point within your app, and so that could be traditional affiliates, it could be a blogger, an emailer, but it also could be influencers. Also, increasingly as we see within the lead generation space, partner channels, for example, like native or Taboola, Outbrain,  Facebook, TikTok, all of these things are unified together to form 'Partners.'
A big trend, is clients, regardless of their industry, using a disparate range of partners to help them drive more users, higher value users, and so on. 
How can partner marketing be used in lead generation?
A lot of people are buying leads from lots of different areas of the internet, broadly speaking, so whether you're doing email activity, whether you're buying on those native platforms, whether you're advertising on Facebook. To bring that all together you need a platform like Everflow so that you're not logging in to all these disparate channels. You can see a unified dashboard and you can say "Great, I'm now working with 50 different partners," for example. You can create tracking links, you can create something called direct linking which enables you to run activity on Facebook and Google,  and you can also give those partners or affiliates a dashboard branded within your look and feel. So it gives a really good way of scaling across a lot of different partners who are driving traffic for you or for your advertisers. 
And of course where we connect with Databowl is Databowl does all the verification and the routing to send all those users off to potential different buyers. 
Let's say a brand wants to suddenly start partner marketing. What do they do?
It's a really good question. Kind of like the housing market there is a lot of demand there and it's always looking for supply. So, if you are a quality publisher you will have a real pick of which brands you work with. 
For brands, we have a marketplace within Everflow, so they can access vetted forms of traffic (vetted publishers). Often this a key thing a brand looks for when wanting to scale. 
If brands are doing their own lead generation through their own internal efforts - whether that's Google or Facebook or LinkedIn or wherever you're buying traffic from - it's a really good idea to have that down before you start an affiliate programme. You shouldn't really be using partners for a testing ground for unvetted landing pages or unvetted creatives. Because these partners will be spending their own media buying money, which is great if you're a brand, but their opportunity cost is running someone else's campaign. So partners will move quite quickly unless you've built up that relationship where you can say "Hey we're testing a new creative and we'd like you to run it," and so on. 
Ready for some more? Catch the entire podcast on Apple, Spotify or Databowl's YouTube Channel NOW!
Weekly Newsletter
Tactics and tips served straight to your inbox. Sign up to the Databowl newsletter and receive weekly custom content for unlocking growth.
Loading newsletter form...