May 06, 2018
User Experience vs Speed – it's not black and white
4 min read
When people talk about User Experience and Speed, it's usually to compare the two and state how the two are mutually exclusive. Here we discuss how that's not necessarily the case.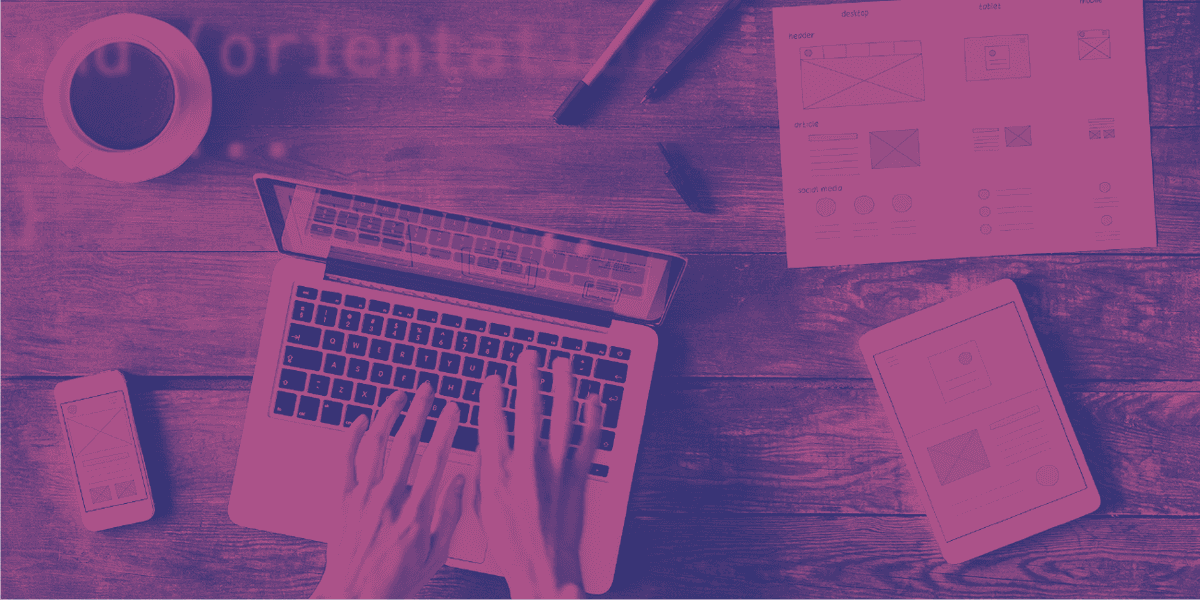 When people talk about User Experience and Speed, it's usually to compare the two and state how the two are mutually exclusive. Just look at the screenshot of this Google search of 'Speed and the User Experience':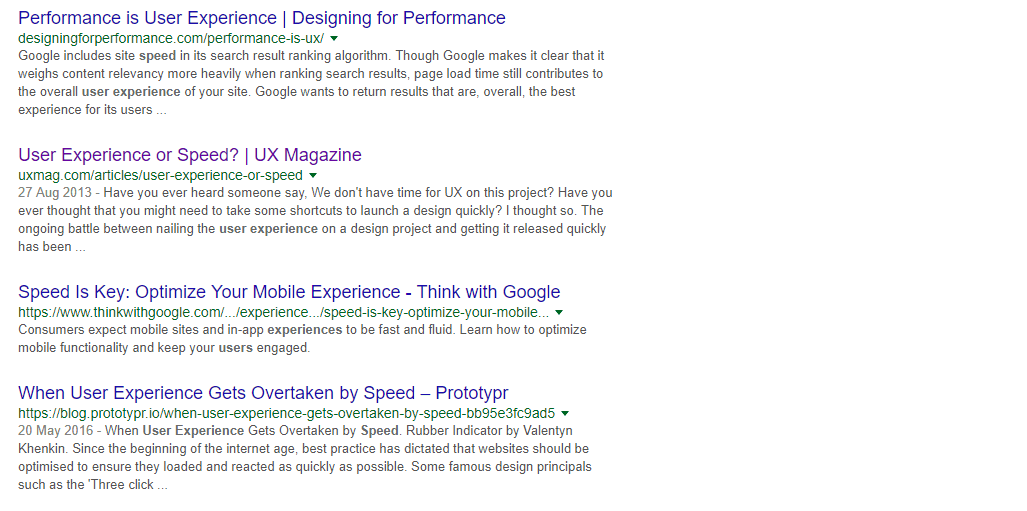 We see titles of 'User Experience or Speed?' and 'When User Experience Gets Overtaken by Speed'. In this blog, I will outline 5 of my reasons why these two metrics are not mutually exclusive and why this issue is not as black and white as it is often made out to be.
1. Think of your users.
Probably rule number one when it comes to UX design, and the first questions you should ask: Who are we designing for? Who is going to be using your software on a day-to-day basis? The answers to these questions will form the very basis of your design. Designing for an older audience? You should probably go for a very legible font with large colourful buttons to aid accessibility. Designing an app for kids? Bright colours, big buttons and illustrations will probably be the way to go. These are just archetypical assumptions (although they do tend to help us in User Experience Design) and more user research would help flesh out these ideas but they're usually a good place to start. For us ourselves at Databowl, our users are often work in high-pressure environments, working with time-sensitive data. This means that they are likely to have less patience to endure long loading times and convoluted journeys than the average person. They have less time on their hands so their expectations of loading times tend to be higher. So you can see why speed and adaptability is KEY to every aspect of our design and development. That's not to say that Maureen and Doris or Little Timmy is going to be happy to wait 5 minutes for a website to load, but when you're building software for an industry in which every second, minute and hour counts, designing for speed is a top priority.
2. The Culture of Now and Instant Gratification
This kind of goes hand in hand with the first point but in a world where we can download 6 seasons of Game of Thrones, order a pizza, some beers and maybe a cushty new blanket to enjoy it all under from the palm of your hand in less time than 5 minutes, we all want everything, now. The same goes for the users of any digital platform. As I said before, our users' time equates to how much money they can make. If it takes a user an hour to perform what is seen to be a pretty simple task, no matter how complex the processes that are happening in the backend, that user is going to drop off. No doubt about it. Whilst you design and develop your website or software, keep in mind that whilst the aesthetics of your site play an integral role in a user's experience, how fast user's can access your site and perform tasks should be just as important as how it looks.
3. Agile development for an agile product
As with most companies in the tech industry nowadays, we work in an agile environment with weekly sprints. And we love it. Working this way helps to keep everyone on the same track, working towards the same desired goal. Agile allows for a much higher level of team engagement and therefore, user engagement. Speaking to users is one thing, but speaking to members of your team that deal with users on a daily basis, such as your support team is a great resource. They can provide a priceless connection to user issues which leads to a greater level of collaboration all round. Being able to adapt and respond to users quickly ultimately leads to better relationships and higher levels of trust with your user base.
4. Using time-based goals
In our UX projects here at Databowl, our underlying aim is always to improve the time it takes to perform a certain action. This is often called task completion or task time. Using software such as FullStory, we can measure down to the second how long it takes a user to perform a certain task. Whether that is how long it takes for a user to create a campaign, build a landing page, generate leads or run a report. This metric allows you to focus on creating the simplest and quickest journeys possible for your users. You can tie speed into the very nature of your User Experience and the faster a user completes a task, tends to correlate to a better User Experience.
5. Performance is the Experience
We all know that page load times can have a detrimental effect on drop-out rates. In fact, if a page takes longer than just 3 seconds to load, studies show that up to 40% of users will abandon your site. Just count three seconds now… 40% of users. Now a lot of people think that UX/UI are interchangeable and it's all about your site looking pretty and how it flows. The thing is, the User Experience starts from the first time a potential user hears about your product. Everything that happens after that is part of their User Experience, including the micro things like how fast your page loads and what is happening while the page is loading.
Ever seen a funky spinner or loading animation? This is to give the user something to distract them from the fact a page is taking an age to load. This isn't a bad thing, as Tessler's Law states, 'for any system, there is a certain amount of complexity which cannot be reduced' and if you and your Dev guys have done everything possible to reduce your load times to a low as they can feasibly go, then this is a great way to distract users.
What I'm saying in this blog is that the speed that users can access your site, perform actions, interactions and processes should be an integral part of your UX plan. It's a highly valued yet often overlooked aspect of UX/UI design as we veer into this world of micro-interactions and animations.
And if you want to see just how fast we are, check out this video below.
Weekly Newsletter
Tactics and tips served straight to your inbox. Sign up to the Databowl newsletter and receive weekly custom content for unlocking growth.
Loading newsletter form...