April 29, 2022
Why Brands Have An Unfair Advantage In Lead Generation
3 min read
We look at why this is the case and why both Brands and Lead Generators can use this to transform results.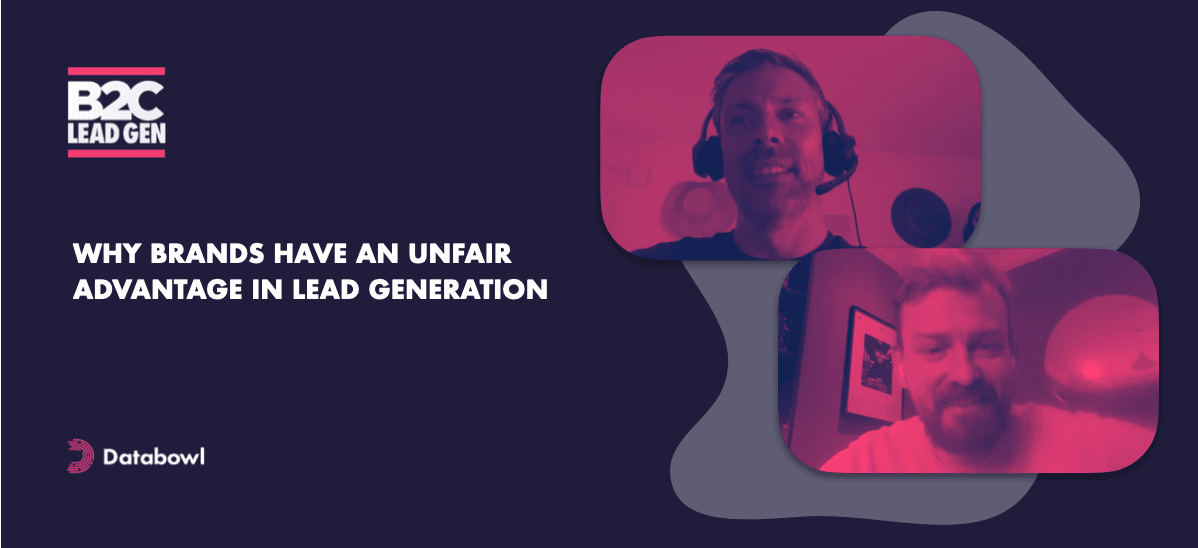 Databowl Head of Marketing Daniel Hopewell and CEO Simon Delaney jump on a call to discuss why brands have an unfair advantage in lead generation. They explore why this advantage exists,  how brands can capitalise upon it, and the opportunity lead generators have to level the playing field. They recorded the call for the latest episode of the B2C Lead Generation Podcast.
Below is an abridged transcript which intros some of the key ideas. Check out the whole podcast with links at the bottom of the page.  
Why do brands have an unfair advantage in lead generation? 
The biggest multiplier of the ROI you experience from advertising  - that is the impact for every pound spent - is driven by your market share of the vertical you populate. The bigger your brand is a specific vertical the better the value you drive from lead generation. So, all those ads that go out because of the trust that has been generated, because of the authority that has been generated, means people searching in that vertical will automatically associate with the largest brand. 
What does this mean, in simple terms?
It means that bigger brands running direct lead generation have a massive advantage over the brands within their vertical, and also over lead generators that don't have a brand at all. 
Okay, how do you capitalise upon this advantage?
There is an idea we push forward a lot. In simple terms it looks like this:
Brands need to become lead generators .
Lead generators need to become brands.
If you are a lead generator generating leads for a specific brand, you may as well do it under their brand. You will get leads in at a lower cost, conversions will be higher, ultimately it will massively help both you and the brand.
If you are a lead generator working with and supplying to multiple brands you need build your own brand. This means rather than simply knocking up a landing page in two hours and pushing it into a vertical without much thought, really think about the positioning and messaging of your brand and offer value to win the trust of people within that niche vertical. What is your differentiation? How can you really resonate  with your target audience? Can you niche down within a larger vertical and become the biggest brand within that niche.
Remember - It is better to be a big fish in a small pond. 
If you are a bigger brand you should:
Contact a selection of strong and transparent lead generators or agencies. 
Ask them to write down the specification of landing pages they know convert 
Design those pages yourself under your own brand 
Work with the lead generators to optimise 
Distribute those landing pages 
Ask them to drive traffic to these pages with ads that also use your brand 
The impact this will have in terms of advertising and reach will be transformative. 
Check out the full podcast on Apple, Spotify, or watch on Databowl's YouTube Channel NOW! 
Weekly Newsletter
Tactics and tips served straight to your inbox. Sign up to the Databowl newsletter and receive weekly custom content for unlocking growth.
Loading newsletter form...