January 14, 2022
What Big Things Can We Expect In 2022?
3 min read
We're back with a new season of the B2C Lead Generation Podcast. To kick things off we work through some predictions for 2022.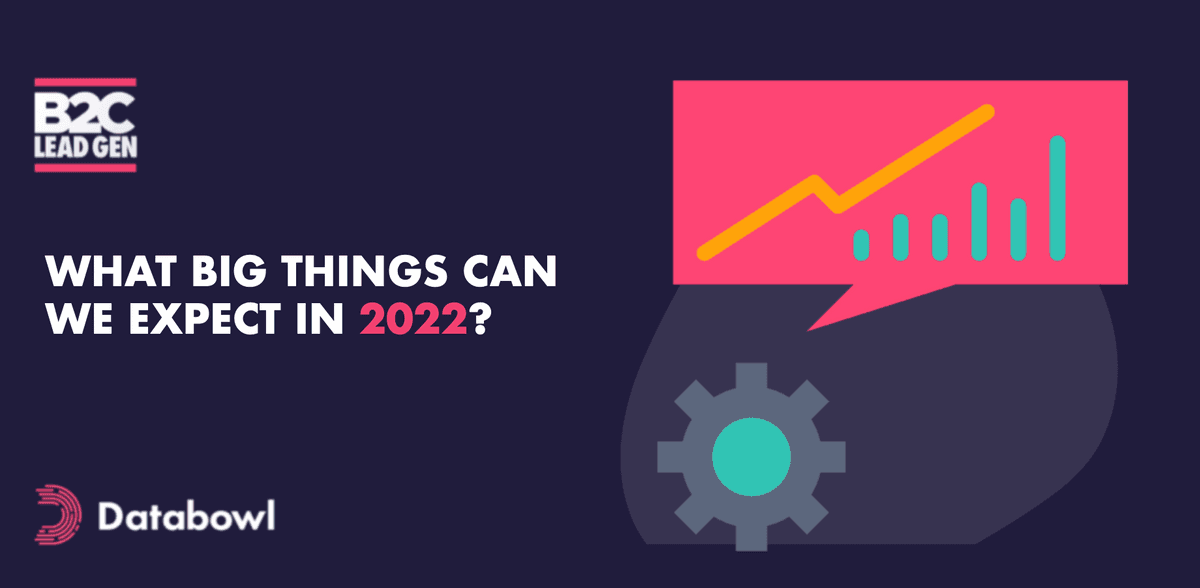 We're back with a new season of the B2C Lead Generation Podcast. To kick things off Databowl Head of Marketing Daniel Hopewell and Databowl CEO Simon Delaney work through some predictions for 2022: What they expect to see happen, what will be big, what will be a miss, what lead buyers and lead generators need to be doing to make 2022 their year…
Below are the key ideas discusses, but you can listen to or watch the full episode with links at the bottom of the page.
Lead nurturing will become far more important
Building stronger relationships between brands and consumers will become as important - or even more important - than generating leads in the first place. If only 15-25% of leads are converted then there remains a huge opportunity to get more value out of the remaining leads. This is the year that lead nurturing will take off.
This seems inevitable for a number of reasons:
Third party cookies are dead and the brands that relied on them will now be looking at other ways to interact with prospects.
The costs of generating leads has already risen and will continue to rise (see point 2) and again this will lead to alternative and less expensive strategies to make more sales.
As the demand for first party data and zero party data rises, the only way to achieve ROI on this will be to run an effective lead nurturing programme.
The costs of generating leads will continue to rise
Everyone wants first party data now, right? A bomb has hit, reality has dawned. 90% of programmatic exchanges are just bullshit (check our podcast with Dr. Augustine Fou if you want to learn more about this!). The realisation has struck and the strategy itself has been forced to end, so the inevitable conclusion is that ad costs will continue to rise.
For brands collecting first party data, zero party data is going to be paramount.
We covered the idea of Progressive Profiling in an article recently, but the importance of progressive profiling and elevating first party data into zero party data through the technique of further qualifying and engaging prospects, will become vital in 2022.
This is information that a prospect consents to give you with the idea that you can market to them more effectively. This again comes back to Point 1 and the importance of lead nurturing. Building relationships based on offering value will be vitally important.
Marketing Operations will become a role that a lot of companies realise they need to fill
This importance of Marketing Operations was covered in our talk with Darrell Alfonso from Amazon in the previous series, but to emphasise here, Marketing Operations will become a role that companies realise they need to fill in 2022.
A lot of companies find they can't market effectively - or as effectively as they would like to - because they don't have that role filled. The more technical side of marketing is essentially facilitated by a marketing ops specialist, and without one the ability to effectively run marketing campaigns such as the acquisition or zero party data is limited. It follows as we switch to a world in which first party and zero party data become more important that the role of facilitating the technical side of this marketing will also become more important.
More granular regulatory bodies will be more active
There was a load of noise in 2021 around the FCA and the regulations on Google, all the financial services stuff. Are we going to see more of this within other verticals? This isn't necessary just referring to FCA but also the ASA who have got more involved with regulating ads on Facebook in previous 12 months.
Can we expect this is continue? Will lead generation be forced to effectively grown up and become more professional? As the demand for first party data rises it follows that regulation will be upped to keep tabs upon the actions of lead generators in 2022.
Why not check out the full podcast where we explain each of these predictions in far more depth? You can listen on Spotify or Apple, or watch the video over on Databowl's YouTube Channel.
Weekly Newsletter
Tactics and tips served straight to your inbox. Sign up to the Databowl newsletter and receive weekly custom content for unlocking growth.
Loading newsletter form...